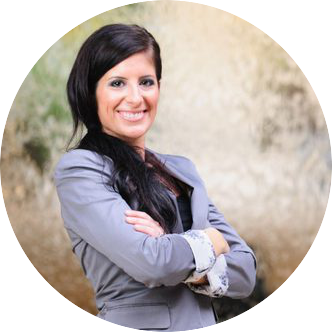 My name is Nikki and I am a CERTIFIED FINANCIAL PLANNER™ professional. 
I love finance, money, and teaching people how to become masters of their future. I want to help people become more knowledgeable, because as the saying goes, knowledge is power. This is my mission in life.
A little background…
I graduated with a bachelors in business management, worked in corporate America (hated it), and have run multiple businesses over the past decade.
My favorite part of running a business was, oddly, sitting with the accountant.
I would pick their brains and master every strategy that I could learn about. I made sure that I clearly understood how taxes worked. I studied investing religiously and I became obsessed with how someone can maximize every dollar.
How did the rich do it? What was the secret to wealth and financial freedom? I wanted to know.
In the mix of all of that, I also learned how to day trade and invest in the stock market, and teach people about it.
Today, the stock market continues to be a passion of mine, and I am an active trader and investor of my own portfolio and in charge of my own wealth.
I'm also a mentor for a community of investors and entrepreneurs.
Okay, here's how She Talks Finance was born…
So, one weekend, I flew home to visit my best friends. We had a long drive home and I had become increasingly curious to ask my friends if they had heard of a few basic money maximizing principles.
Am I the worst friend for bringing up the boring topic of finance to my besties? Maybe, but I wanted to try it out.
I was only used to talking money via work, not with my friends (historically, this has been very taboo). 
One money principle is keeping your savings in the right type of high-interest bearing account.
I asked my savvy saving friend where she kept her savings (she's always been great at saving money, so she was the perfect person to ask). She said it was in a savings account at her bank but it wasn't earning any interest, really.
I told her she could be earning much higher interest, compounding over time in a different type of account. She said "I can earn how much!?" and she was thrilled. She had no idea that her substantial amount of savings could have been earning her income and growing with virtually no risk.
This gave me some confidence, so I tested out the same question with a few different people and to my surprise, they all had no idea how to maximize their savings. They were all quite happy with me, which started to spark some motivation to help more people close to me and not be afraid to open up the conversation about money.
I was just a nerd who wanted to talk about money with people.
Then, something else happened…
I considered myself an outlier, a woman in a man's world of finance. At investing events, I was usually one of a handful of women. Sometimes I was actually the ONLY woman in the room.
I didn't think too much about it until one of our female event attendees asked me, "Nikki, have you ever thought about wealth-building events for women"?
Well, no, I hadn't really. I had the knowledge, and my small sample size of people that I questioned certainly showed there is a lack of financial knowledge among both women and men, but especially women.
Maybe she was onto something? 
So I started hosting local meetups (with wine, of course) to gather ladies and get a conversation flowing about money and investing… and people actually came.
A big problem with the financial world, is that it has been wildly inaccessible for the majority of people due to the high costs of professional help.
They're left scrubbing the internet to try to find the right information and they may not have the training to decipher the sometimes confusing rules. 
To solve this problem, I have built an affordable community membership. It gives people access to a financial planning training program that is actually usable, essential resources, and live classes called "The Finance Family" community. 
If you've been wanting to better understand where your money moves will take you and learn how to build real wealth, you've made it to the right place!
Let's talk finance and get you in charge of your own financial future. 
Create Your Wealth Master Plan Today!
How to create the right mindset that will get you on track to financial freedom
The 6 key parts of your wealth master plan
Why you need to create your own wealth master plan (even if you're in debt)
The top 3 ways to build wealth through investing
How to make sure you arrive at your dream retirement with a comfortable nest egg
Why budgeting alone won't get you to financial freedom
How to protect your family against life's biggest risks