Wealth Master Plan Training Program
Are you ready to finally get on the right path to financial freedom?
Learn How You Can Earn More Money, Keep More Money, And Grow Your Money The Right Way… Even If You're A Complete Beginner
Learn To CRUSH Your Financial Goals!
Maximize your cash flow and know exactly what to do with your monthly cash flow
Eliminate all of your high-interest debt that's keeping you enslaved to creditors
Optimize your investments so you can build REAL wealth
Protect your family from life's biggest risks
Develop a crystal-clear strategy for ALL aspects of your financial life
"Everyone deserves to feel confident about their money moves, and it's never too late to learn how."
– Nikki Dunn, She Talks Finance
No matter where you are starting from today…
I want to help you take control of your financial future and get absolutely clear on WHERE you want to go and HOW you plan on getting there!
The difference between taking action now and procrastinating could literally be the difference between being able to live free of financial worries, or constantly struggling and stressing out about money for the rest of your life!
The sad truth is that the majority of people aren't financially independent by retirement age, and most people aren't able to live a worry-free life in their prime young years…
I want to help you join the minority of people that are on the right track to achieving their financial goals.
The reason most people don't take action is because they don't have proven tools, techniques or the support for increasing their income and building wealth. And that's exactly why I created the Wealth Master Plan Program! This exclusive program is all about giving you the tools, knowledge, support and accountability for you to take control of your financial future.
Everything You Get with the Program
Members-Only Email Access
You may have questions when going through the training. You get access to submit your questions straight from the members area.
Exclusive Facebook Group
Connect with other Finance Family Members on their journey towards financial freedom and get questions answered in between live classes.
Wealth Master Plan Mentoring Program
Immediate access to the Step-By-Step 7 module Wealth Master Plan Training Course where you'll learn how to create a crystal-clear plan for growing income, building wealth, eliminating debt, reducing taxes, and creating true financial freedom!
Wealth Master Plan Action Guide
This guide makes sure nothing goes missed. It will walk you through how to build your own money plan.
Expert Interview Series
Learn from TOP EXPERTS in investing, entrepreneurship, tax strategies, real estate and more!
Money-Back Guarantee
If you decide the program is not a fit for you, I honor a 30 day money-back guarantee. All I ask is that you make a real effort to go through the program and put the action guide to work for you.
Join The Wealth Master Training Program
Strategies and Techniques You'll Learn
DEVELOP A WEALTHY MINDSET
PROTECT YOURSELF & YOUR FAMILY
DESIGN YOUR DREAM RETIREMENT
UNDERSTAND & MINIMIZE TAXES
Not taking action with your money can cost you thousands of dollars over your lifetime. This is an investment in your future self so you can live your best financial life.
Regular Tuition:
$997.00
Todays 50% Discount!
$497
*30-day Money Back Guarantee
Monthly Payment Plan
$197
*30-day Money Back Guarantee
" …As a single mom I feel especially thankful and grateful for the life-transforming learning experience I am getting from your course. Many thanks. "
– Yoni
"After taking Nikki's course I had the confidence to begin building wealth for myself. I have always wanted to start but felt overwhelmed about where to start. Her course gave me exactly what I needed! I have already paid off 6k in debt and saved 2k toward my emergency fund since taking the course."
– Mel
"I recently purchased your course and I loved it! It was so easy to understand and listening to a woman is far less intimidating."
– Shannon
"I have been plodding through your courses and I must say I am both surprised and grateful at how informative they are."
– Timothy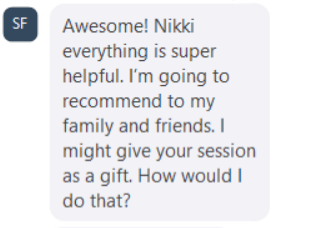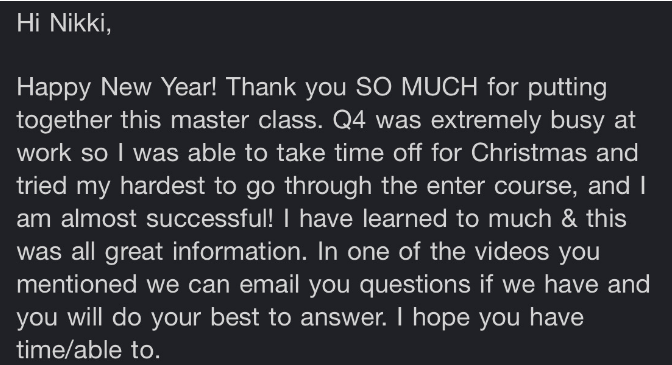 Frequently Asked Questions
Is this program right for me if I have debt?
Absolutely. A lot of people are actually approaching debt the wrong way. It's all about properly allocating your funds to the right "money buckets" that will get your debts paid down quicker. Not to mention, everything that you will learn will be useful throughout your entire financial life.
It's really necessary to get a strong foundation NOW so that you know where you're heading in the future.
I really want to invest but I'm lost on where to start, will this help me?
It sure will! I have been an investor and have been teaching it for a long time. I break it down the investing concepts step by step.
I was once a new investor too, and I know how confusing this stuff can be. So, I try to give it to you in bite-sized pieces.
I find that most people WANT to understand how to manage their own money and have more control, but don't know how to utilize the tools. This module will get you not only understanding the overall market, but also understanding the "HOW-TO" of investing with hands on examples.
Don't want to do it yourself? I show you all of your options to start getting invested and where to go to get quality help from advisors.
How much money do I need to start with if I am investing?
Most brokerages have nixed minimums to open an account. This means that for the majority of accounts you can start with as little as you'd like.
Just know that even if you don't have a lot to invest, the sooner you begin the better, and you can always build up your contributions to your investment account over time.
The big thing that we will cover in this program is making sure you've covered every other part of your wealth master plan and if it's time to start investing or not.
Either way, you'll get the knowledge that you need to start making decisions!
Finance is a foreign language to me. Will I even be able to understand what you teach?
Yes! My specialty is helping people understand finance without all of the fancy jargon.
If I use fancy jargon, I tell you what it means!
Then, you can go impress your friends with words like yield, dividend and compounding! You're going to feel super empowered!