I heard about the DOSH app from a friend recently and I'm kind of obsessed.
I've even figured out a way to double dip into savings on your purchases.
What's DOSH?
DOSH is an app that you download on your phone. You then add whatever credit card or checking account you like to shop with (you can also add Paypal).
Once the app has your payment info stored, you shop at any of the participating merchants in store with that same payment type and viola! You then will see money start to roll into your DOSH balance.
Their technology communicates with the merchant and knows you shopped with them by your payment method. They then automatically credit your DOSH account. Once you have $25 bucks racked up, you can make a transfer to your bank account.
Some pretty cool retailers and restaurants are participating. Recently I've seen Sams Club, Exxon, Wal-Mart, Target, Nike, TOMS, Neiman Marcus Last Call, Mattress Firm, Pizza Hut, Hooters and many more.
Online vs. Offline shopping
There are basically two ways to shop.
Offline (local merchants in your physical area)
Online (purchasing from a website via your phone)
Once you're logged in, you'll see this section showing you the merchants.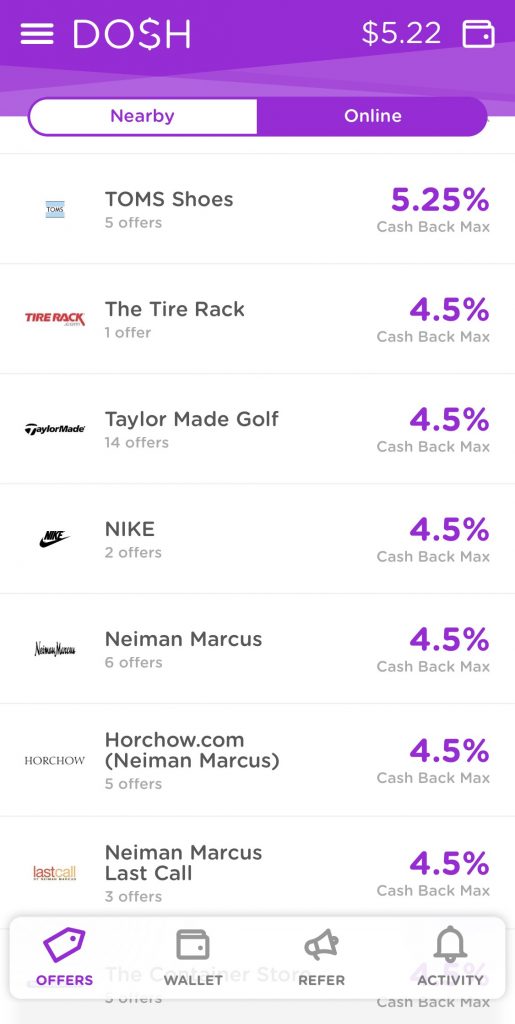 With the retailers near your physical location, all you do is shop as normal. No other action needed after linking your payment method.
I was pleasantly surprised to find some cash come in after a trip to CVS. I didn't even know they were a participating merchant.
The app will tell you what's close by and you can adjust the location if you need to see what's being offered in other areas.
There may be a small caveat with the online retailers participating. You will be required to purchase directly from the link that is in DOSH to get the cash back.  It's really not too big of a deal, though. You simply click the offer you want and it will forward you to the website to purchase your goods as usual. That's it.
It may even have other offers like 10% off of your purchase, for example, that you may not have found elsewhere.
The Amazon Effect
If you're curious, DOSH makes money by charging the merchant a percentage of the transactions going through their app.
Retailers are okay with this because it's bringing them business. Repeat business at that.
Customers on DOSH are visiting more often and spending more money. They probably think twice before buying something on Amazon now when they can walk into a Sams Club and get 5% cash back (we all need to get out of the house every now and again, anyway).
I can see this model being very good for businesses to battle against the Amazon effect. Many consumers want a deal, and they're willing to do what it takes to get one.
Double Dipping in Rewards
What is even more interesting to me is that you can actually double dip on the rewards front if you're using a rewards credit card.
Say you have a 2% cash back credit card. If you use that card in your DOSH account, you could increase your savings by getting the 2% from your credit card company PLUS whatever percentage DOSH is giving you.
So for example, if Nike is running a 5% cash back offer in DOSH and you use your 2% rewards card to buy something, you get up to 7% cash back on that purchase.
It Can Add Up
At first glance, it might not seem like the rewards are big enough on a percentage basis to be worth getting the app.
However, very small amounts of money can add up over time. You might build up enough funds to buy some Holiday presents at the end of the year, buy a plane ticket, or treat yourself to a nice dinner.
Some money is better than no money, right?
You can also earn extra money just by referring your friends. I would say free money should be a pretty easy sell.