"Credit cards" can be frightening words for many people. So frightening, that they stay away from credit cards completely.
If you're struggling to pay off debt, of course, this may not be the post for you for now.
However, if you're able to pay your credit card balance off on time, every month, you're in luck.
These rewards cards can be absolute money maximizing strategies and you can possibly never pay for a flight again.
There is a method to the madness. I'll be outlining my strategy to free flights.
Step One: Sign Up for Airline Specific Rewards
Just about every airline has its own free rewards program that helps you earn points with every flight you buy through them.
Delta has SkyMiles, Southwest has Rapid Rewards, United has MileagePlus… you get the picture.
You literally sign up for the ones you want to fly (I sign up for almost all of them) and earn points with every flight purchase.
The airlines want your loyalty. They want you to pick them every time you choose to be up in the sky. This is why they offer a free rewards program.
It works. I find myself seeking out tickets from my preferred airlines only. This helps me rack up the free flights through the airline directly.
This is just one part of the equation… it's all going to come together soon to show you how this can compound.
Step Two: Choose the Right Rewards Card
There are many different rewards credit cards out on the market now.
How do you choose?
You need to consider two things:
1. How much you spend every year (that is chargeable to a credit card)
2. How much the yearly card fee is (if any)
Don't write off card annual fees yet, believe it or not, they can pay for themselves in certain situations.
The first thing you want to do, is figure out how much you'll be spending every year on your everyday expenses. This will help you figure out how much you can earn on a dollar value basis to see if a card fee is worth it or not.
I know everyone's spending habits are different, but here's a general example:
If you spend $3000/month on necessities, entertainment, and bills, you can assume you will spend $36,000/year on the card.
TIP: you can get most of your monthly bills charged to a credit card (electricity, cable/internet, phone, tolls, gas, food, etc). You're spending this money no matter what, so why not earn something for it?
That's about 36,000 points on your card per year assuming 100 points is worth $1, which is pretty standard.
Now, to the good stuff.
Each card pays a different amount of points per dollar. What gets even trickier, is that many pay different points for different types of purchases.
So what's a girl to do?
You have to figure out which will give you the biggest payout based on the type of spending that you do the most.
This is where some analysis comes in. Let's get nerdy…
Here is an example between two different cards:
Card 1: Capital One Savor pays 4% cash back on dining and entertainment, 2% at grocery stores and 1% on all other purchases.
Annual fee: $95
Card 2: Capital One Ventures pays 2X points on every single dollar spend.
Annual fee: $95
This is where you can go back to the last 30 days of your spending and count up what the points would have been for each vendor (grocery store, restaurant, other).
Whichever card gives you the most rewards based on your spending habits would be the one you'd want to choose.
Always weigh the annual fee. Sometimes a card paying fewer points, but doesn't have a fee, could fit your life better.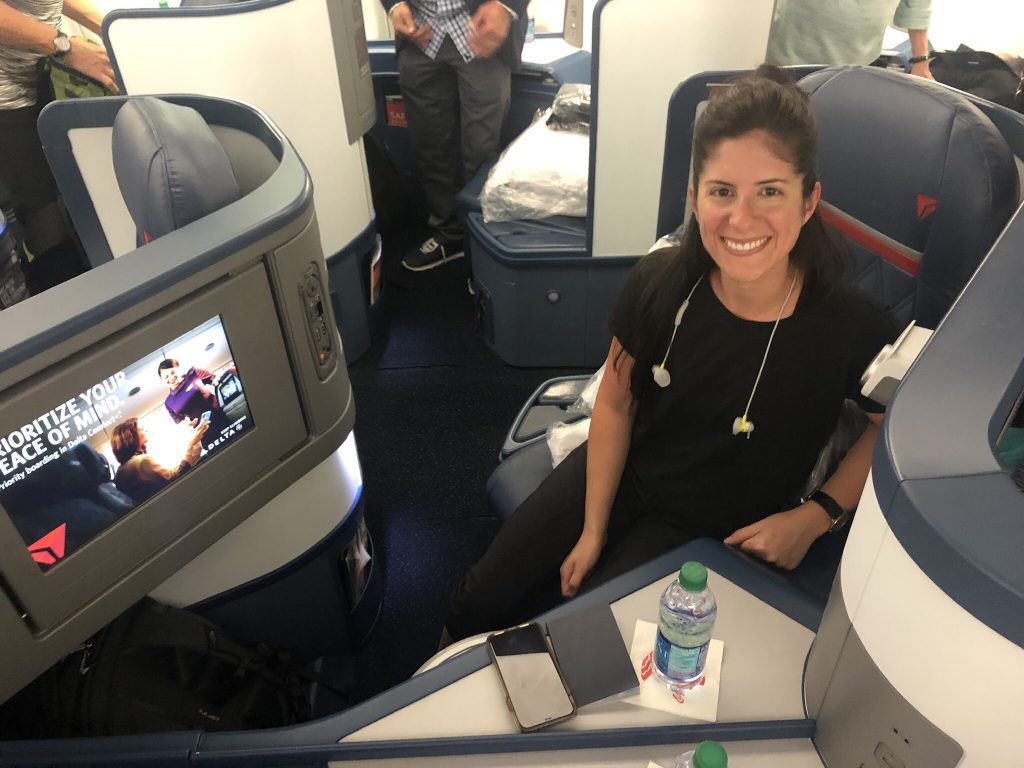 Step Three: Let the Rewards Compound …Responsibly
The compounding comes in when you go to purchase an airline ticket with your rewards credit card.
When you go to purchase the ticket, you'll put in your airline rewards number to get points directly from the airline.
In addition to that, you will earn rewards with the purchase of the airline ticket through your credit card company.
Cha-ching!
This method works really well, but you have to be SUPER responsible.
The idea is to not pay a penny of interest to the credit card company.
You put all possible everyday expenses on the card, but you need to pay it off on time, in full, every single month.
Don't feel bad about not paying the bank interest (insert sarcasm). They get your annual fee.
However, when you have the right card to match your spending habits, this can pay off big time.
So, whatever you have to do to get that bill paid on time, I support it.
Whether it's putting a note on your mirror or making your best friend force you to buy lunch if you forget to pay your bill on-time.
Whatever it takes!